To go Alcohol, is it here to stay in Texas ? This is the question most of us have wondered since the start of the pandemic. Texas is not known for its loose alcohol rules. In fact, we have some of the most strict in the entire nation. So, how long will we be able to order our favorite cocktails with our pick up order?
<h2> Is to go alcohol here to stay in Texas? Greg Abbott says yes</h2>
In short, yes! We will be allowed to pick up our favorite wine, beer and/or mixed drink from our favorite restaurants. As of 5/12/2021 Texas Governor Greg Abbott says that to go alcohol can stay in the state permanently. House Bill 1024 was officially signed. According to the official Texas Alcohol and Beverage Commission, this bill states that:
"Eligible mixed beverage permit (MB) holders and Private Clubs are now authorized to sell beer, wine and cocktails with food orders that are purchased for pickup or delivery."
This is great news for everyone in the industry! Because of this, we have seen most businesses increase their revenue due to the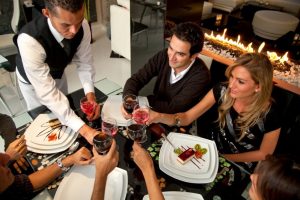 increase in alcohol sales. Although, there are a few restrictions the TABC has implemented that states who can be eligible to serve pick up alcohol and how.
<h2> Who can serve beer, wine and/or liquor to go? </h2>
Of course, there are rules to follow that have been set in place. Texas, is still one of the most strict states in the nation when it comes to alcohol sales. The TABC states that in order to serve beer, wine and/ or liquor to pick up establishments much 1 of the 2 below requirements
The establishment must hold a Mixed beverage Permit or an MB and have a current Food and Beverage Certification or an FB.
Hold a Private Club Registration permit or an N and have a Food and Beverage Certification or an FB.
If a premises has one of the following they may be eligible to serve alcohol with pick up orders. They may also be allowed to deliver alcohol.
<h2> Alcohol delivery </h2>
Not only can alcohol be picked up, it can also be delivered. This can be done either through the restaurant or through a third party.
An establishment can hire their own drivers to deliver beer, wine or liquor to their customers. This can only be done is the premises has 1 or the above requirements and if there is food delivered along with the alcohol. There must be food present in the delivery!
Places may also use third parties and independent contractors for deliveries. These third parties must have a Mixed Beverage Permit, an MP, or a Private Club Registration Permit, an N. If you are using an independent contractor to make your deliveries, they must be holding a Consumer Delivery Permit or a CD. Remember to always make sure everyone you are working with is holding the correct permits and is legally do what is required. Failure to do so can result in fines or worse, losing your license!
<h2> Are there restrictions on what can be picked up and/or delivered?</h2>
In short, yes! The TABC has set some restrictions on what can and cannot be picked up or delivered. One restriction that we previously mentioned is that the alcohol must be accompanied with food! But, it is important to not that there is no food to alcohol ratio required. All other rules are stated below:
Malt beverage and wine much be in their original container that is sealed by the manufacturer.
Distilled spirits are in the original single serving container sealed by the manufacturer and not larger than 375 milliliters.
Spirits may not be mixed with other beverages or garnishes.
Both malt beverages and distilled spirits must be in a tamper proof container that is sealed by the permit holder.
All alcohol must be clearly labeled with the permit holders business name and the words "alcoholic beverage".
Must be in a tamper proof container. The TABC defines a tamper proof container as: "a container that once sealed, clearly shows whether it has been opened. The term includes a cup or similar container that is placed into a bag that has been sealed with a zip tie or table or sealed with shrink wrap or a similar seal."
<h2> Conclusion</h2>
Even with the restrictions this is very good new for Texans! Alchol sales make up a very large portion or most establishments profits. Adding on alcohol to any to go order can increase a customers ticket cost an average or 30%. It is important to remember that because this a new law the TABC will be on the look our regularly for establishments that are not following the law. You do not want to be on the TABC's bad side! Trust us. Not following their rules can lead to costly fines and an eventual lose of license. If if comes down to this, that means no more alcohol sales!
Make sure to let your staff know that alcohol to go is here to stay. It is important to keep everyone in the loop and informed of these new rule changes. It is even more important to inform them of the rules surrounding alcohol to go! All of your staff should be aware of the above rules but we also suggest have a specific person to double check that all rules are followed. From our friends who currently own establishments, they have the hostess, bartender or a designated to person double check every order that goes out the door. This ensures that you are always on TABC's good side. Alcohol should always be fun, even to go! So make sure everyone is being responsible on both ends.
<h2> Need a refresh or TABC certification? Sign up here!</h2>
Don't forget that the best place to get certified for Alcohol and Beverage Training is right here at Comedy TABC. We have an all video course that will not only inform you on everything you need to know but also make you laugh! Sign up today and get certified today!