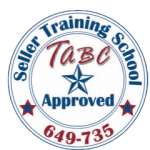 RENEWING YOUR TABC LICENSE
This TABC certification course can be taken if you are looking to renew your license or getting one for the first time. Every 2 years you must re-take your TABC seller server certification. If the expiration date on your card has passed, this course is for you. You may take any TABC approved course you choose (thank you for choosing us). This course is not only funny, but the shortest TABC course allowed; because we know your time is important. You can use any phone, tablet, or computer, with an internet connection.
Get started on renewing your TABC license today!
ABOUT TABC CERTIFICATION online
OFFICIAL CERTIFICATE
Download or Print When Finished
2 YEAR EXPIRATION
Certificates are valid for 2 years
TX REQUIRED
If you sell/serve alcohol you need this course.
STATE TRANSMISSION
We will transmit your certificate info to the TABC
WALLET SIZE CERTIFICATE
Convenient wallet size certificate – FREE
Need-2-Know Topics In This TABC Course