Considering have a spooky and boozy night? Here are our top Halloween themed cocktails to try. We showered the Internet for the ultimate themed drinks and below are some favorites. Follow these simple recipes to impress and/or scare your guest this holiday.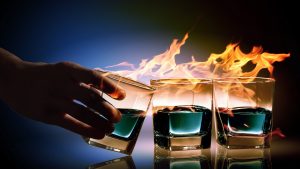 The Black Cat
This recipe was found at food.com and use a black vodka. The drink is classy, tasteful and eye catching. A halloween twist on an the old faithful martini. The ingredients are: 2 ounces blavod black vodka 1⁄2. ounce Chambord raspberry liquor. Shake this together with some ice and pour into your favorite martini glass. 
Witches brew cocktail
This is a bright green concoction bound to get everyone's attention. The great part about this cocktail is it can be made in large quantities and put in a punch bowl for everyone to serve themselves. The ingredients are as followed: 6 ounce package lime gelatin, 2 cups boiling water,3 cups chilled pineapple juice, 1(2 liter) bottle chilled lemon-lime flavored soda or (2 liter) bottle ginger ale, 2 cups chilled vodka. Start this cocktail off by boiling some water. After, pour your gelatin mix in and stir until it is completely dissolved. Finally add the rest of your ingredients. Voila! You now have a beautiful and tasty neon green cocktail. 
Butter Beer
If you are familiar with Harry Potter you have probably heard about butter beer. This drink is sweet and savory.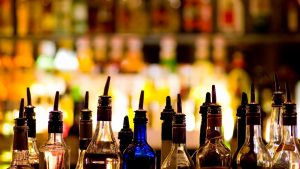 The taste is similar to a cream soda.The ingredients are as followed: 8 ounces whipping cream, 2 tablespoons powdered sugar, 2 tablespoons sugar, 1 tablespoon butterscotch caramel sauce, 1 pinch salt,6(12 ounce) bottles cream soda, 2 cups vanilla vodka. Start off by whisking together the whipping cream and all of your dry ingredients together. After this add your vodka and top with the butterscotch caramel sauce. This drink is also delicious with out the alcohol. Make a virgin version with out the vodka for a delicious treat for the kids. 
The Ghost Buster
This fun drink well easily get you in the spooky spirit. A little on the sweet side, this drink is made with 1 ounce peach schnapps, 1 ounce melon liqueur, 3 -5 drops Irish cream. Mix the first two together then slowly drop in your Irish cream. When this is done you will get a green layered explosion of flavors. 
Halloween Black Brew
This fun drink taste like a tropical get away but looks menacing. The ingredients are: 1 ounce Malibu rum,3⁄4ounce blue curacao, 3⁄4ounce Chambord raspberry liquor, 1⁄2ounce grenadine, 1 ounce cranberry juice. Finally, mix all the above ingredients together and pour over ice. Despite the sweet taste, this drink will scare your guest into getting into the halloween spirit with its pitch black appearance. 
With all these amazing Halloween themed cocktails it is important to remember to drink responsibly. Do not drink and drive! Have fun, drink accordingly, and always have a designated driver or ride share app home. Happy Halloween from Comedy TABC.