You may have found yourself wondering what are the biggest drinking days of the year. So many of our holiday traditions focus on letting loose, relaxing and having a drink between family/friends. Between the Fourth of July, Christmas and New Years it is a stiff competition for what day has the most alcohol consumption. Although, the answer may surprise you. Here is a break down of the top 5 biggest drinking days of the year.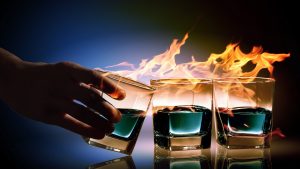 5. Christmas
It is no surprise that alcohol consumption increases during the holidays. People attend more parties, have time off of work and get to see friends and family. Also not surprisingly it is the most consist increase in alcohol sales year after year is the time period in between Thanksgiving and New Years Day. This is a time where alcohol consumption can unfortunately lead to binge drinking. Overindulging during the holidays is easy to do. Remember to drink in moderation, the holiday season is a marathon and not a sprint.
4. The Super Bowl
While this is not considered a holiday, it may as well be considering how many people treat it as one. Super Bowl weekend is huge in the U.S. Even people that do not consider themselves football fans will normally find themselves at some sort of social gathering to celebrate. According to an article published by Men's Fitness , Americans drink 325 million gallons of beer (1,230,258,829.8 litres) on Superbowl Sunday. The Big game has become a Big drinking day.
3. Fourth of July
Having a beer while enjoying fireworks has become essential to some people while celebrating this holiday. The Fourth of July traditionally includes barbecues, family, friends and alcohol. While we agree, everyone should indulge during this holiday, it is important to remember that drinking should always be done in moderation. The National Safety Council estimates that the Fourth of July is the most dangerous occasion for people on the roads. Remember to drink responsibly and DO NOT drive.
2. New Years Day
This one should come at no surprise. It is after all tradition to have a toast at midnight to ring in the new year. While this isn't considered the biggest drinking day, it does hold the record for alcohol sales from liquor stores. Liquor stores so a huge increase in sales the day before New Years Eve as people stock up for their parties.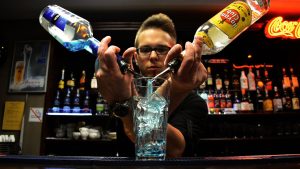 Unfortunately, New Years Day is also number 1 for DUI's. This holiday sees a 129% increase in drunk driving related fatalities. This a great time to remind your friends to carpool or get a ride share app!
1. The day before Thanksgiving
The day before thanksgiving is always a Wednesday and according to recent studies, it is also a day that people drink so much that they forget it is a Wednesday. This day is jokingly referred to as "black out Wednesday". Bars and clubs become packed with people home for the holidays ready to kick off a 4 day weekend. Year after year this day has seen the most alcohol sales in bars and clubs. Fair warning to all of our friends in the service industry, prepare yourself. Make sure people aren't over-served and that they do not drive drunk! Remind everyone that drinking is meant to be fun and not to end up in the back of a cop car.
Remember to drink safely this holiday season! From your friends at ComedyTABC.com