If your looking to get your guest in a festive mood, look no further than the best eggnog recipe. We searched far and wide to fine the best tips and tricks to make the creamiest eggnog. Follow the detailed instructions below to impress even the biggest Scrooge.
The Best Eggnong Recipe
Ingredients: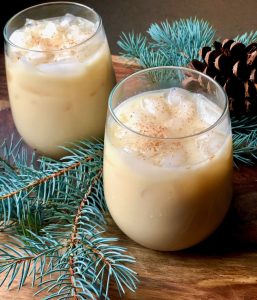 6 large egg yolks
3/4 cup granulated sugar
1 pint heavy cream
1 pint whole milk
1 cup rum, brandy, or bourbon (optional)
1 tsp vanilla extract
1/2 tsp ground nutmeg, plus more for serving
1/4 tsp ground cinnamon
Pinch of salt
Instructions:
In a large mixing bowl, whisk together the egg yolks and sugar until well combined. Set aside.
In a large saucepan, combine the cream, milk, rum or other spirit (if using), vanilla extract, nutmeg, cinnamon, and salt. Heat over medium heat, stirring occasionally, until the mixture is hot but not boiling.
Slowly pour the hot mixture into the bowl with the egg yolks and sugar, whisking constantly to prevent the eggs from cooking.
Pour the mixture back into the saucepan and cook over medium-low heat, stirring constantly, until it thickens slightly and coats the back of a spoon. Be careful not to let the mixture boil, as this can cause the eggs to curdle.
Remove the saucepan from the heat and strain the eggnog through a fine-mesh sieve into a large bowl or pitcher. This will remove any bits of cooked egg and ensure a smooth consistency.
Let the eggnog cool to room temperature, then cover and refrigerate until chilled, at least 2 hours or overnight.
When ready to serve, sprinkle a little extra nutmeg on top of each serving and enjoy!
Tips:
For a richer, creamier eggnog, you can use a combination of heavy cream and whole milk.
If you prefer a non-alcoholic eggnog, you can omit the rum, brandy, or bourbon.
To make the eggnog extra fluffy, you can beat the egg whites until stiff peaks form and fold them into the mixture before refrigerating.
If you prefer a thicker eggnog, you can add a little more sugar or reduce the amount of milk.
For a lighter, lower-fat version, you can use a combination of whole milk and nonfat milk, or use all nonfat milk.
Remember to drink responsibly. Alcohol is only fun when ever everyone gets back home safe! If you are need of some alcohol safety tips OR maybe you need to re up on your Texas Alcohol and Beverage Certification, you an do that right here. ComedyTABC is the only online course taught by real comedians, so you will actually want to pay attention. Start and stop as your please. You can also take the course from the comfort of your own home or anywhere else you need to. Sign up today in just a couple easy steps.
Happy Holidays